In winter dogs can need a little extra warmth to feel comfortable outdoors, and this is particularly true for puppies. At OlliePets we offer a huge range of practical, cosy puppy coats to meet their needs.
Whether your dog needs a functional coat for the winter or you simply want to keep them looking fashionable, dressing your dog up can be a very cute and fun experience. However, we know how hard it can be to not only find clothing that fits your dog's unique build, but also clothing that's comfortable and stylish. Our guide will include everything you and your dog need to know before purchasing clothing, and how to best let your pup wear the clothing. From finding the latest fashion trends in dog apparel to sizing your pup for a new accessory; rest assured we'll have all the information you need in order to make a smart buying decision for you and your pooch.
ABOUT DOG APPAREL
Unfortunately, pet clothing is never one size fits all. In fact, you often can't even rely on the typical "small, medium, or large". Some clothing brands are made specifically for different types of breeds. If you think about it, no two breeds are built the same. Some dogs have longer necks, legs, and body lengths. No matter what kind of pup you have, you can find clothing that fits them if you take the time to measure your pup.
Of course the first step is to find an article of clothing that is designed for your dog's specific breed or their outdoorsy needs. This is the easiest
way to ensure your pup will be able to wear the clothing comfortably. If not, pay close attention to all of the measurements available. If the clothing company doesn't offer measurements, chances are – it won't fit your pup. Once you have your dog's measurements, you're ready to start shopping! Throughout this guide, you will find key information on everything for dog clothing, as well as our top apparel picks for your pooch. In particular, we'll cover shirts, dresses, sweaters, jackets, and even jerseys.
Stormguard Coat
Ancol
£13.84
Cosy Fleece Jacket
Kismaple
£12.99
Hoodie Pet Warm
Idepet
£6.99
Waterproof Dog Coat
TFENG
£13.48
Birthday Bandana Triangle Scarfs
LUTER
£7.99
Protective Dog Boots
Royalcare
£19.39
Anti-Slip Dog Socks
EXPAWLORER
£9.99
Dog Hair Bows (50pcs)
nuosen
£6.99
Coat and Chest Protector
Ancol
4.27
DECORATIONS ON DOG CLOTHING
First, look over all of the materials on the article of clothing. If the apparel has any shiny buttons, clips, or decoration that sticks out; you can expect that your dog will either claw or bite them off. Once they start biting off pieces, the outfit is as good as gone.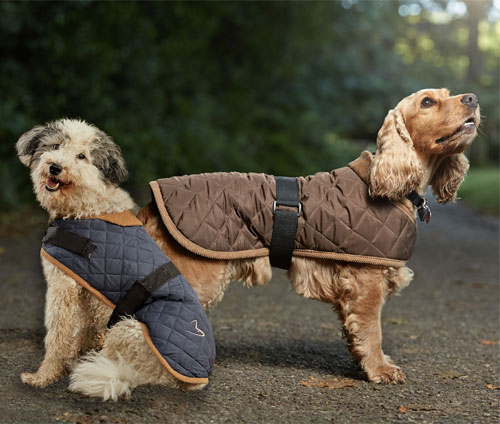 ALLERGIES
For our last pro tip, investigate what (if any) type of allergies your dog may have. This will also include if they have any skin sensitivities. Each company uses various materials to produce their dog apparel, especially if the article of clothing has multiple layers to protect from cold weather. Sometimes, your unique pup will not be compatible with synthetic fabrics. Luckily, dog companies are beginning to manufacture eco-friendly clothing from materials like natural cotton and hemp. There are more options than ever before when it comes to keeping your allergy-prone pooch safe.
MATERIALS YOU SHOULD KNOW
There are a variety of materials companies use to make dog apparel. However, just like human clothes, some fabrics are more comfortable than others. Furthermore, you may know (or find out) that Fido has a unique allergy or skin sensitivity to certain types of material. In preparation, it is best to be keenly aware of what the dog apparel in made from before purchasing. Take a look at our informative list to see what fabric is most compatible with your needs:
TREATED COTTON:
Cotton is one of the most popular fabrics used for pet apparel. It's comfortable, flexible, and provides a bit of warmth in cooler months. That's also why they're used in a lot of baby clothing. They're great for dogs that need a flexible fit and won't tolerate stiffer clothing. They'll keep short-haired dogs warm in the spring and fall without restricting their movement.
100% NATURAL COTTON:
Clothing made with 100% natural cotton avoid the use of chemicals and synthetic fibers, so you can be sure you are getting a product from mother nature herself! This is where the main difference compared to treated cotton lies, because treated materials may have dyes, synthetic fibers, or other chemicals mixed in with the cotton. If you like to purchase all-natural products, we suggest looking for this type of cotton in your dog's clothing. Additionally, this 100% natural cotton option is excellent for pups with allergies.
POLYESTER:
Polyester is a great waterproof material that's often used in rain jackets and overcoats. If you're looking to purchase some snow or rain protection for your pup, look for Polyester as the main fabric. It'll keep your dog dry and safe from the elements, and you can even find cotton-filled polyester that will keep your dog extra warm in the winter months.
QUILTED NYLON:
Quilted Nylon acts a lot like polyester, but is much warmer. It's often used for winter jackets or snow jackets. If your pup likes playing out in the snow, this is a great fabric to look for. It'll keep the snow from soaking your dog, and help keep them warm.
SPANDEX:
Often you'll find spandex mixed in with fabrics such as cotton. This will help the material obtain a super stretchy feel. It will allow your dog to move around in the material easier, and give them a comfortable feel.
HEMP:
Although this material is not as common as the previous ones mentioned, it still offers plenty of benefits for your dog. First of all, it is very strong compared to other fabrics, like cotton. Its strength will last throughout countless uses, which is something everyone can value. A huge plus to purchasing hemp products is that they are eco-friendly. In fact, hemp crops don't require pesticides and need minimal water. When you purchase a hemp product, you're getting a high-quality item while also helping the environment.
HOW TO TAKE YOUR DOG'S MEASUREMENTS
Many companies will offer measurements that correspond to the size options, which allows you to know exactly which size is ride for your pup. In order to make use of this information, you need to take your dog's measurements. By doing so, you will ensure that your dog gets the perfect fit! After-all, no one wants to purchase clothes that are too big or small. There are a few different types of measurements you will need to take depending on the type of clothing you are looking to buy:
CHEST GIRTH
Behind your dog's front legs and at the widest part of their chest is where you can find their chest girth. Simply wrap your measuring tape around your dog's chest, and you will have the chest girth measurement. Basically, this is the circumference of your dog's rib cage. Most sizing for dog clothes is based on this measurement, so it is important to have when making a purchase.
BACK LENGTH
Your dog's length is measured on their back, from the base of the neck to where the tail starts. When you measure your dog's length, you want to make sure your dog is standing up on all fours. If your dog is curled up on the couch, you won't be able to get a correct measurement. Place the beginning of the measuring tape at the base of your pup's neck, and have the rest of the tape follow down their spine. Use the number closest to the start of your dog's tail and there you have it, your dog's back length.
NECK GIRTH
Similar to chest girth, you will be measuring another circumference, except it will be for your dog's neck. This will generally be right around where your dog's collar sits. Again, use your measuring tape and wrap it around your dog's neck to get their neck girth measurement.
PRO TIP FOR TAKING MEASUREMENTS:
We know it can be hard to keep your dog still, especially when fiddling with a tape measure around their wiggly bodies. To make your pup stay still, we suggest using treats. An even easier way to keep them put would be to have another person hold the treat in front of your pup while you take the measurements. By doing so, your dog will stay focused on the treat while you measure them. Also, a rule of thumb to follow if your dog is between sizes is to choose the larger option. It's always better to round up; the last thing you want is clothing that will constrict them.